A FEW WORDS ABOUT ME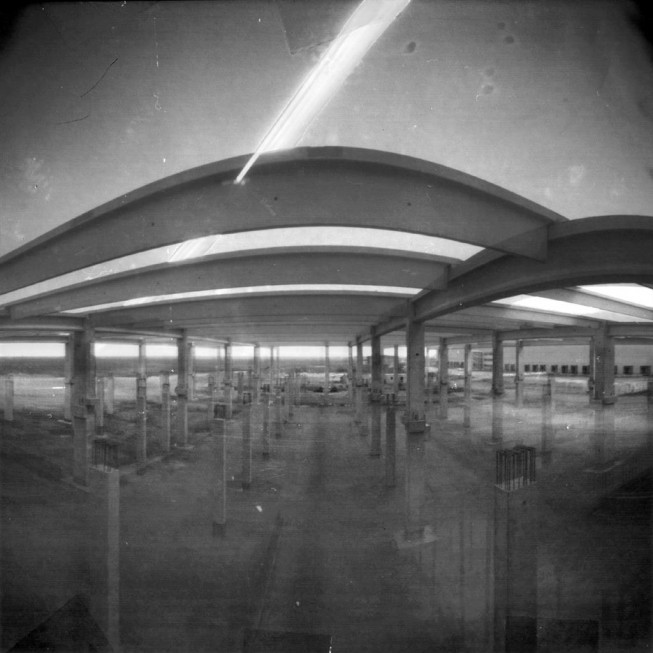 I discovered pinhole photography few years ago in an attempt to extend the exposure time: I wanted to photograph the movement of the moon and stars at night, over a long period of time. In this endeavor 
Pinhole Moustache
was born. Under this name I make both still pictures and short films like
this
.
Since both photographic film and digital cameras usually have a high photosensitivity, I use mainly photographic paper as negative. In the pictures I take with my custom built cameras, aside the experiments and exposure tests, I mainly try to surprise motion in time, in 4 dimentions, in a way that transcends the message of today's mass produced photography.
My projects are usually long and very long. Digital and optical camera exposure times usually lie in fractions of a second, while those made by me are of minutes, hours, days or months. The slice of time and the range of events captured by classical photography is, in comparison with that made by a pinhole camera awfully thin, recording only a narrow section of our movement in space-time.
At the moment I have cameras installed in cities, on buildings, in offices and in homes, forests and fields recording daily, nightly, the movement of nature, or the pulse of the city. In my images, the thoughts, the events and all the actions which took place during the long exposure find their place, for one who wishes to see them, and can be related to local and global events. Children are born, grow, enjoy and begin to walk, people meet and separate, political regimes change, seasons, joys, worries, hopes and sorrows alternate.
MY CAMERAS
pinhole camera No.5 "PAT 110" pinhole diameter 400 μ focal distance 110 mm, F 249 / 110x270x110…

pinhole camera No.6 ELECTRO pinhole diameter 240 μ focal length 35 mm, F 140 / 110x100x42 mm…

panoramic pinhole camera No.3 "LORELEI" pinhole diameter 300 μ focal length 55 mm, F 185 / 110x230x65…